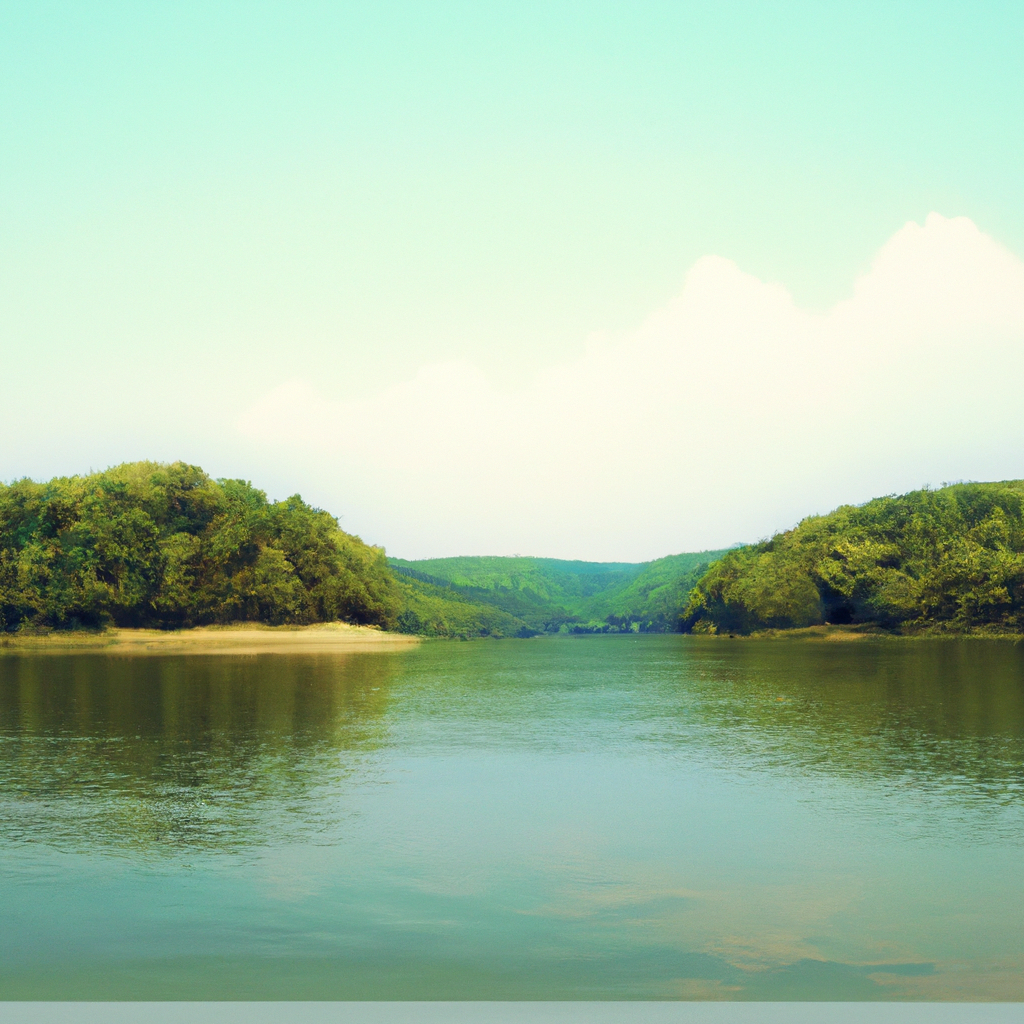 54,000 Acres of Beauty
Located in the heart of Missouri, the Lake of the Ozarks stretches over 92 miles and covers 54,000 acres. It was created in 1931 by harnessing the Osage River with the creation of the Bagnell Dam, making it the largest man-made lake in the Midwest. The lake boasts over 1,150 miles of shoreline, dotted with resorts, marinas, and restaurants catering to its visitors.
Visitors to the Lake of the Ozarks can immerse themselves in a variety of activities, including boating, fishing, swimming, and hiking. The calm waters of the lake make it a hotspot for water sports, while its surrounding state parks provide ample opportunities for hiking and exploring.
One unique feature of the Lake of the Ozarks is its underwater caves, created by the limestone bedrock found beneath the lake. These caves provide a unique opportunity for diving enthusiasts.
To fully experience the Lake of the Ozarks, visitors should consider renting a houseboat or booking a resort stay. Houseboats offer a more immersive experience, allowing visitors to explore different areas of the lake at their leisure. Additionally, visitors can plan a visit to the Bagnell Dam, which includes a museum that showcases the history of the lake's creation.
Whether seeking relaxation or adventure, the Lake of the Ozarks offers something for everyone. With its ample opportunities for water and land activities, visitors can create their own unique experience.Who needs a beach when you've got the Lake of the Ozarks, the Midwest's answer to 'Island Life'?
There are 1000 docks and more than 100 restaurants on the shoreline.
Visitors can enjoy water sports, fishing, hiking, golfing, and exploring underground caves. Spring or autumn are good times to visit with mild temperatures and fewer crowds. A boat or personal watercraft is a great way to experience the lake.
The Lake of the Ozarks is a mesmerizing sight, enchanting adventurers with its beauty, only to chill them with its icy depths.
Its awe-inspiring shape and size make it ideal for nature enthusiasts. The transparent water reveals distinct flora and fauna species underwater. It has a moderate temperature, perfect for swimming, boating and fishing. Plus, with a constant supply of water from nearby streams, the lake never dries up.
The beauty of this lake is extended by its expansive greenery, which circles its edges. Blue Herons often come by the shore, while Bald Eagles fly overhead with their keen eyes. Research from National Geographic Magazine says this lake is home to more than twenty fish species, all endemic to the area.
Visiting this lake is a must for any nature lover. It's an unforgettable experience that you must have at least once in your lifetime!
Activities and attractions around the lake
Discover the wonders of the serene lake! Enjoy boat rides, hiking, picnics, fishing, and more. Tour the historical landmarks and marvel at the exquisite sights. For an extra tranquil experience, mix your hikes with morning yoga sessions. Unlock the secrets of this natural wonder and explore its unique features. Get ready for a truly revitalizing getaway!
History and Development
Lake of the Ozarks is a beautiful man-made reservoir located in Central Missouri, USA. This lake has a rich and fascinating history that spans over several decades. The area was once used as a venue for concerts and events, but it soon turned into a popular tourist destination in the 1930s. The lake got its name from Osage Nation, who were the original inhabitants of the area.
One of the major contributors to the development of the lake was the construction of the Bagnell Dam. It was built in the early 1930s as part of the Works Progress Administration project. This dam not only created the lake but also provided employment opportunities for the locals. The construction project was completed in 1931, and the lake became operational soon after.
Over the years, the lake has undergone several transformations. In the early days, it was a favorite spot for tourists who came to relax and enjoy the peaceful surroundings. However, with time, the lake has become more commercialized, and today it boasts of several resorts and recreational activities.
Apart from being a popular tourist destination, the lake also has a rich sports history. It has been home to several powerboat races, including the famous Lake of the Ozarks Shootout. The lake has also hosted several fishing tournaments, and its waters are abundant with several species of fish.
The lake is not just a beautiful location but also has some interesting stories associated with it. Locals claim that the lake is haunted by the ghost of a man who drowned in its waters. There have been several sightings of the ghost over the years, making it a popular spot for paranormal enthusiasts.
"The Lake of the Ozarks: Nature's way of saying, 'You Midwesterners could use a little beach.'"
The creation and purpose of the lake
Tracing back, the lake's origin and purpose can be linked to a time when the region was developing rapidly. To address ecological issues, the local authorities took firm action towards conservation. This led to the creation of a water body that would host diverse aquatic life forms and offer recreational activities to locals.
Designers worked hard to make sure the lake looked natural while also meeting its purpose. They also made sure the facility was environmentally sustainable. Nowadays, the lake is a major landmark, attracting many tourists and nature enthusiasts each year. Plus, it is a crucial source of freshwater for humans and animals in the surrounding areas.
Locals say that the lake has a mystical energy that brings calmness and serenity. One legend tells of a fisherman who caught a giant fish, but released it due to his beliefs of not harming living creatures. This story teaches everyone to protect our ecosystems.
The development of the area around the lake
The surrounding area of the lake has evolved from a deserted swamp to a bustling metropolis. Infrastructure and amenities like restaurants, hotels, parks, and recreational sites have improved. Tourists have contributed significantly to this growth.
Residential communities, educational institutions, and commercial hubs have been established, too. It's become a tourist destination with cultural attractions and employment opportunities for locals.
Modern community centers with accessible amenities can be found within walking distance. Balance between natural and human-made features is essential for preserving ecological diversity.
Anyone interested in this place can get involved in activities that add value and create lasting memories. Why not save money and get food poisoning by swimming in the polluted lake? #SaveMoney #Sarcasm
Recreation and Entertainment
Lake of the Ozarks – A Haven of Relaxation and Fun
The Lake of the Ozarks is a picturesque reservoir situated in the heart of Missouri, thriving with a plethora of recreational and entertainment activities for all:
A Multitude of Water Sports: This sprawling water body provides opportunities for swimming, boating, jet skiing, paddle boarding, fishing, and scuba diving, ensuring a thrilling, action-packed time for adventure enthusiasts.
Mesmerizing Natural Scenery: The lake is surrounded by stunning hills and lush verdure, making hiking, camping, and picnicking a serene experience for nature lovers.
Diverse Entertainment Options: With live concerts, music festivals, casinos, and restaurants, Lake of the Ozarks caters to varied entertainment needs, promising a fun-filled time for all.
For those seeking a unique experience, the AquaPalooza, an annual boat rendezvous event, is a must-visit, with art booths, live music, contests, and a chance to make lifelong memories with friends and family.
Don't miss out on a once-in-a-lifetime opportunity to enjoy the best of rhythm and beauty that Lake of the Ozarks has to offer. Pack your bags, book your stay, and immerse yourself in this breathtaking spectacle of leisure and luxury. Throw on a life jacket and hop on a boat – it's time to make some waves at Lake of the Ozarks.
Water-based activities such as boating, fishing, and swimming
Discover the wonders of nature through water-based recreational activities! Boating, angling, and swimming are ideal ways to relax and enjoy the outdoors. Here's a quick look:
Boating offers an exciting way to explore aquatic environments and admire nature's beauty.
Fishing is a soothing activity with friends or alone; a chance to catch different fish while enjoying nature.
Swimming is a great way to stay fit and refresh your mind by cruising through water!
Boating can also be used for activities like dolphin or whale watching.
Fishing and boating can act as therapy for stress and anxiety.
Swimming promotes healthy living and reduces the risk of disease.
Remember to secure permits and training before participating. Also, don't forget to practice safety measures – like life-jackets – when engaging in any of these activities.
Pro Tip: Before embarking on any water-based recreational activity, check the weather forecast for safe practices!
Land-based activities such as hiking, biking, and golfing
For an escape from the everyday, land-based recreational activities can provide a ton of fun! Let's explore the diverse range of activities that offer physical exercise, connection with nature and a chance to challenge oneself.
Hiking: Trekking in nature, breathing fresh air and taking in the sights – it's a great way to strengthen muscles and get the heart pumping!
Biking: With cycling, you can check out stunning locations and get a cardio workout with leg muscle strengthening benefits!
Golfing: Golf is great for all ages and requires concentration, technique and patience. Plus it's also a great social activity.
Rock climbing: If you're seeking thrills, rock climbing is your go-to! It will help with hand-eye coordination, balance and flexibility, while also requiring trust in yourself and your equipment.
Camping: Camping is the perfect way to unplug from the real world and get in touch with nature. Sleep under the stars and get a dose of fresh air, tranquility and adventure!
Fishing: Fishing may seem passive but it's actually a skill-building activity requiring focus, patience and finesse!
Want something less intense? Horseback riding and birdwatching are both incredibly calming and restful experiences.
Don't miss out on these land-based recreational activities! They can provide stress relief, improved mood & memorization skills, leading to overall happiness!
Entertainment options such as resorts, restaurants, and nightlife
Want to have fun? There are myriad places to go to, such as hotels, restaurants, and nightlife hotspots. Here are some experiences to try out:
Resorts with spas, golf courses, and swimming pools.
Restaurants cooking up traditional and international dishes.
Nightlife spots with music and drinks.
Celebrating local arts, culture, food, and more.
Sporting venues from golf to extreme sports.
Theaters, cinemas, and concerts.
We can help by participating in waste reduction plans, composting, and using recycled materials. Every drop counts for environmental standards! If you notice pollution or improper behavior, report it right away. This can help reduce damage to our environment and secure it for future generations.
Organizations are like Avengers of environmental protection, but with more recycling bins!
Community efforts and organizations to protect the lake and its surroundings
The lake conservation movement is a strong community effort, with many organisations working to protect the environment. Their focus is the safeguarding of the lake and its surrounding area. Here are some initiatives and organisations involved:
Volunteer groups fundraising to conserve
Educational seminars on sustainable development
Cleanup and restoration projects
Advocacy for regulations on industrial pollutants
These initiatives have helped to spread awareness about protecting the environment around the lake, particularly among nearby residents. The positive impact of this work has led to progressive policies for industries discharging waste into water bodies.
The work of individual volunteers, who take up civic responsibility without being part of an organisation, should also be recognised. This collective community response has put pressure on commercial developments that might harm the lake's eco-system.
A nation-wide campaign was also led by passionate activists, marching from the source of the lake. They pushed lawmakers for stricter regulations to protect the long-term health of our ecology.
It appears the real estate and tourism industries are in a race to be labelled 'Most Destructive Force Against the Environment'.
Real Estate and Tourism Industry
The picturesque Lake Of The Ozarks has emerged as the center of attraction for the real estate and tourism sectors. The region is witnessing a surge in the demand for prime properties, including resorts, hotels, and rental homes. The tourism industry is thriving with an influx of visitors, fueling new opportunities for local businesses.
The scenic beauty of the lake has made it a paradise for water sports enthusiasts and vacationers. The local authorities have been investing in infrastructure development to cater to the growing number of visitors. The incorporation of sophisticated amenities and facilities like restaurants, shopping centers, and entertainment options has intensified the appeal of the area.
The lake offers a unique experience to its visitors, who can also enjoy the surrounding countryside with its historic sites, wineries, and golf courses. The increased popularity of the place has resulted in a rise in property prices, with investors flocking to the area to capitalize on this opportunity.
According to a report by KBIA, the tourism sector in the Lake of the Ozarks contributes over $1 billion annually to the state's economy. The region's real estate industry is also booming, with experts expecting it to continue this upward trajectory in the coming years.
Looks like the real estate market around Lake of the Ozarks is making waves, but not the kind you want to swim in.
The growth and development of the real estate market around the lake
Real estate near the lake has seen amazing growth. Its scenic beauty and calm atmosphere have caused demand for living and commercial spaces to boom. Tourist attractions nearby add to its value.
Investors are drawn to this opportunity. Prices of property around the lake have gone up. Popular builders have created projects with luxurious living at budget-friendly prices.
The amenities provided are top-notch, such as swimming pools, clubhouses, gyms, and more. Commercial properties give prime spots for hotels, restaurants, and other tourism-based businesses.
The government is helping by upgrading infrastructure: roads, transport systems, and internet connection. Plus, they've adopted pro-tourism policies to boost the economy.
Investing in real estate near the lake? Do your research first. Know the prices and trends for best ROI. Tourists come for the sights, but they stay for the money!
The impact of tourism on the local economy
Tourism has a major influence on the local economy. Incoming visitors help local businesses and create job chances. It also drives the real estate industry when investors search for ways to benefit from the tourism boom.
The advantages of tourism don't stop at businesses, but also go beyond to the area's infrastructure growth. It stimulates economic development and makes way for facilities such as parks, transport services, and the preservation of heritage sites.
Unique facts display how hospitality industries have had an essential role in enhancing local economies around the world. A recent Forbes study states that international hotel chains invest heavily in developing areas with potential for tourism, thus driving local economies through a constant influx of commerce.